We provide the best teaching for salsa, bachata, and other styles, such as dance improv'. Regardless of what you are after, we have the solution. In our Cuban salsa program, you will learn how to dance on beat, create amazing movements and have lots of fun. For our bachata program, you will explore correct body movement and sensuality still in a fun spirit. See the difference in a matter of weeks.
Salsa is fun, right? Cuban salsa is a notch above. Not only playful but also physical and a great alternative to the gym. With my unique Cuban salsa style, you will learn rhythm, dance steps, body movements, and choreographies. 
Everything you need to know about salsa.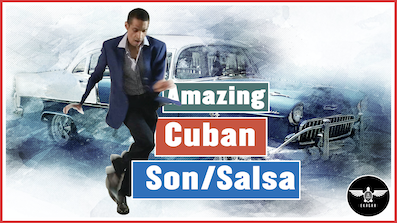 Cuban son is a unique and gracious couple's style of...
Read More
Bachata is this sensual dance many people get hooked on after they try it. At first, the proximity of dancers might feel strange, but the more you listen and dance on bachata, the more you will understand why dancing closely is essential to enjoy bachata. Learn the steps and body movements and gain confidence before you hit the dance floor.
Improv'. Aside from salsa and bachata, we teach many other dance forms, such as Cuban son, zouk, rumba, and improv'. Improvisation is one of the best ways to ensure you are a complete and confident dancer and not someone who relies on others to enjoy and express yourself. Cuban son will teach you a form of dance between salsa and bachata, while rumba and chango will teach you confidence, playfulness, and afro rhythm.
Learn with an expert
Simple and effective method to learn salsa, bachata and more.
Book Your Time Slot
The key difference between Salsa and Bachata
Tempo is the main differentiator between all these dance styles, including salsa, bachata, son, rumba, or chango. So, for example, if you watch a son Cubano dance video, you might think you are watching salsa. And somehow, you are right. But at the same time, you would be wrong because the tempo is very different between salsa and son. The same is true between salsa and bachata. In my recent post, I explain the critical differences in detail with examples of steps differences and practical videos on how to apply these steps.
You might say, "yeah, but Cuban salsa (casino Rueda), and salsa on 2 are different too". And again, it's about tempo. You might decide that your one is on the left foot, right one or even it is your hand. It does not matter; as long as you understand the song's tempo and patterns and match your movement to them, you will know how to dance.
How are the lessons structured?
The structure is the same whether you want to learn salsa, bachata, or any other Afro-Cuban dances. We will train you to understand the patterns of the songs, to have perfect body movement, and to use the perfect dance steps. For example, when you went to a party, you probably saw dancers using fancy gestures and dance steps. But have you noticed that most of these dancers use the same steps no matter what song is playing? And did you know that most people dance off-beat? So instead of teaching complicated steps, we will teach you how to make the most out of simple steps in combination with body movement and tempo. That way, you will be able to absorb many more steps easily. 
All in all, the key to success: Body movement | Recognise the patterns | Dance steps
Learn with an expert
Simple and effective method to learn salsa, bachata and more.
Book Your Time Slot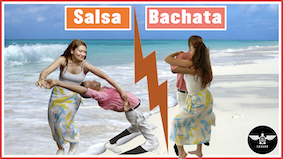 The difference between salsa vs bachata lies mainly in the...
Read More
My body balance system is a proven system that ensures...
Read More
Discover a proven system to get flexible fast that will...
Read More