If you want an excellent guide to the best salsa music for beginners, look no further. One of the key challenges novices face in their salsa journey is finding the correct music to listen to to become great dancers. The reason why it's crucial to choose the right songs carefully is that if you jump too fast into complicated salsa songs, you will struggle in your dancing. Another challenge for dancers is the ability to translate what they learn in the studio onto the dance floor. There are specific reasons for that, and I will address these issues too. Finally, I will provide a practical guide on how to listen to these songs so that you understand patterns and can play on them.
1. What type of salsa music is good for beginners?
In my many posts, I go over the key secrets to becoming a great dancer. One of them is to develop great hearing for music. There is a process to the skill. The key is identifying what instruments are important to learn salsa; and what songs heavily use these instruments. Pretty straightforward, no? Yet, you rarely find dancer teachers that share these secrets. Probably, that's because they don't know themselves. 
As such, one of the best salsa music for beginners is not salsa; but one of its precursors. 
2. Rumba is one of the best non salsa music for beginners
This traditional dance style originated in Cuba in the 19th century. Confined initially to dark skin Cubans, the dance form increased in popularity when Cuba underwent its political changes of the 1960s. 
2.1. What is Rumba?
A dance /music form where a male and female engage in a fight of seduction; the lady does everything to avoid the tricky attacks of her male partner. The reason why I classify rumba as the best salsa music for beginners is that it relies on the main instruments a salsa dancer must be able to recognize, namely the clave. 
How often have you been to a salsa class where the teacher claps his hands, does some footwork, and shouts 1-2-3, 5-6-7? In theory, it makes sense, but when the actual music starts, you need help finding the 1-2-3, 5-6-7.
I had this issue at the beginning of my salsa dance career, but I quickly identified the types of songs I needed to listen to dance salsa properly. Therefore, you should first listen to rumba as a basis.
2.2. Why Rumba is great "salsa music for beginners"?
Rumba is not salsa, but it will train your ear to recognize the clave. Another reason why I classify it as "the best salsa music for beginners" is because you can learn salsa steps from rumba dances. Many of its moves are rumba ones. 
o Rumba music for beginners
From Los Munequitos de Matanzas – Ruma de Corazon – 50 aniversario:

– Homenaje A Los Fundadores
– Candela (Palo Quimbombó)
– Chino Gua Guao
– Yo también soñé
– La llave
– La sitiera
– Te ando buscando
– Ave María
– Obsesión sublime
– No pasa ná
– Cordillera de montañas
– Columbia cubana
– El Necio – Yoruba Andabo
3. Salsa with Rumba
Once you can recognize the clave patterns on a rumba song, the next stage is to see whether you can identify it on other songs with a bit more instruments. The laters could distract you, and so we still want to listen to music with strong clave. The types of salsa songs with Rumba that will help beginners are the likes of :
– La Revolución del Cuerpo Pt.2 · Gilles Peterson's Havana Cultura Band, Ogguere, Danay, Obsesión
– Scuola Di Rumba – Berna Jam
4. Salsa with clave
Once you are good with the first two steps, you can dive more into a full salsa song, where the clave is still perceptible. The clave will help you at the beginning while you count in your head. Because your feet follow the clave movement, you want to be like a factory worker with only one job: to identify and follow the clave. Dancers get lost in salsa music because they let other instruments lure them away from the clave. Indeed, this is easy to fall into. As a beginner, you almost exclusively want to avoid that.
4.1. The trap for beginners
To avoid falling prey to other instruments, I created a two-stage training. The first one consisted of body movement, which I did on Chango and rumba songs (because they use clave a lot). Secondly, I implemented salsa steps into my routine. Therefore, I could express myself fully without losing my steps. This is a skill, but because many dancers look Rumba, Chango, or other Afro-Cuban dances down, they tend to shun these traditional dances and wonder why they don't have great control of their movements.
o The salsa music for beginners with clave
– India – Mi Primera Rumba
5. The clave fades away
You are no longer a beginner at that stage of your ear and rhythm training and feel comfortable with songs where the clave fades away (because you now have rhythm). However, you would surely get lost if you did not train yourself with the first three steps and the three kinds of music I recommended.
o Music where the clave fades away
– Agua Pa' Yemaya Elio Reve y su charangon
– Marc Anthony – Aguanile
6. The ghost
You could be playing the clave in a band at that level, even if the salsa songs do not have the instrument. For example, we will listen to a son song (son being a precursor of salsa) that a famous pianist rearranged. You should be able to put the clave back into the song. That stage is not a beginner one, but as for stage 4, there is a beginner phase to that process. It is, therefore, essential to practice on these kinds of songs.
o Music where the clave is not present
– Marc Anthony – Aguanile
8. I have more to offer
Learn Cuban Salsa, Bachata, Improv' and many other dance styles. Check out these videos and see what you can achieve in less than 3 months. Private lessons available for just £35/Hour. Free body movement and basic salsa and bachata lessons provided.
---
Ekagra-ji Recommends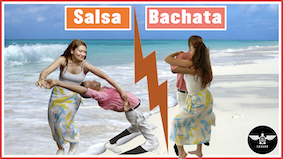 The difference between salsa vs bachata lies mainly in the tempo and rhythm. One (bachata) has a more straightforward rhythm which can be helpful when you try to learn salsa.